Carton Manufacture
With the acquisition of the Larch Plastics manufacturing and production equipment in 2002 1st-Packaging became a major player in the clear plastic packaging sector. Establishing its roots servicing the gift and confectionery industry, from there the Company has continued to expand and improve its product portfolio, moving into food and confectionery retail packaging.
Producing and printing cartons from plastics has always presented more challenges than the traditional cardboard designs, however improving production methods and the development of a more automated process allows a new generation of superior quality finished goods. 1st-Packaging can offer its customers innovative packaging solutions for any application.
The first part of the process is to produce samples. Our samples are designed on a Zund CAD Machine.
Once samples have been produced to customer satisfaction the next stage in the manufacture of clear plastic cartons is to produce the tooling. The bespoke tool is paid for by and owned by the customer, the maintenance and up keep of the tool is done by 1st-Packaging.
The correct material is chosen from the following options: APET, RPET, GAG, RGAG, PVC. Material thicknesses from 190micron up to 500micron are available to order, stock material range is 190-300micron.
If the order weight is below 500kg then stock material is guillotined to the correct sheet size and if more than 500kg is required a mill making of the correct size is produced.
When the correct sheet size is ready the next process is to die cut and crease the blanks from the sheeted material on a cylinder press or auto platten machine. In the case of pick and place window cartons, both the carton blank and the clear PET window are die cut and then go through an additional process of gluing the window to the carton blank on the pick and place machine.
The final process is to fold and glue the cartons ( before packing ready for dispatch).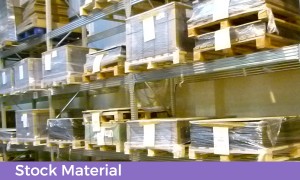 Automated Plastic Carton Assembly
1st Packaging has worked to develop a method of machine sealing plastic cartons. Machine-erectable transparent PVC and PET cartons have been the goal of manufacturers in the UK and Europe for many years. This has often been considered non-viable by machine manufacturers, but we've now solved the problem.
The cartons, in a maximum size of 355x250x100mm and a minimum of 108x45x25mm, are erected at speeds of 20-60 cartons per minute. They are then sealed with a special hot melt adhesive that dries clear.
These PVC or PET cartons were suitable for high-value FMCG products such as food, drink, cosmetics and pharmaceuticals.